2.5 miles
E - Easy
Location
Rt 52/Chestnut St at intersection with West St.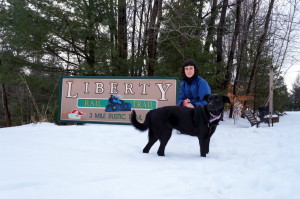 Main entrance is on Rt 52/Chestnut St. near the intersection of West St.
on the Rt 52/ Chestnut Street entrance there is a large painted "village" style sign which says Liberty Rail Trail
Terrain Difficulty
E - Easy
Ownership
Owned by Town of Liberty, maintained by LibertyBikeTrails.org
Accessibility
Foot, Bike, XC
Handicap Accessibility
Yes
There is ample parking at the Chestnut St entrance, a parking area at the intersection of State and Hill St., and parking on Carrier St by the intersection with Upper Ferndale Rd.
Special Features
There are 3 different sections to this trail, each with a different atmosphere. At the northern end (Chestnut St. entrance) you pass by the old stone bridge abutments. In the middle, it passes through a commercial section of town, part of which contains structures from the railroad era. At the southern end, the trail is very wooded, at the terminus, you can look out over the pass where a tall bridge would have been, and you can still see some of the old concrete pylons that supported the bridge.
As of winter 2011, trail was clear of major debris, flat and dry.