3 miles
E - Easy
Location
Railroad Ave, Mountain Dale, Sullivan, New York 12763
SHAWANGUNK REGION TRAIL
The Fallsburg O&W Rail Trail includes segments from Mountaindale to Woodridge and from Woodridge to the Neversink River. The trail is well-maintained and on level terrain with flowerbeds, a variety of views, and wetlands with excellent areas for bird-watching. Highlights include a Visitor's Center in Mountaindale with a display of historical railway photographs, artifacts, a new scale train sculpture, rest areas and stretching equipment. Be on the lookout for occasional wet spots and illegal ATVs.
NOTE: Soon to come…Detailed Google Trail Map
Also Visit SullivanStriders.org and the Rails To Trails Brochure for the trail map and more information about the history of the trail and yearly events. Look for the annual Rail Trail Race hosted by the Sullivan Striders.
DIRECTIONS: In South Fallsburg, park by a small playground at Railroad Plaza and Griff Court. The trailhead is up Railroad Plaza behind an enclosed basketball court on the left (along Water St.). In Hurleyville, park near the post office along CR 104.
DIRECTIONS: For the Woodridge-Mountaindale segment, park at the intersection of Green Avenue and Greenfield Road in Woodridge. In Mountaindale, park by the old Mountaindale Train Station, now a visitor center with restrooms, and head past the parking lot and you'll come to a sign board for the Mountaindale O&W Linear Park. Source: http://www.traillink.com/trail/o–w-rail-trail-.aspx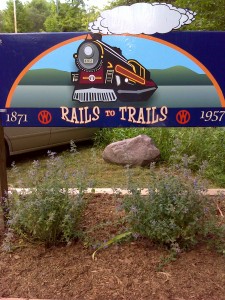 Trailhead
Trailheads at Railroad Ave., Mountaindale and at County Route 104, Main St. Hurleyville. Additional trail entry points in South Fallsburg, Main St./Rt 43/Forestburgh Rd. and at Greenfield Rd at Green Ave. in Woodridge.
Terrain Difficulty
E - Easy
Ownership
Town of Fallsburg
Accessibility
Foot, Horse, Bike, XC
Special Features
Visitors Center with display of historical railway photographs. Trail includes resr areas, flower beds, stretching equipment and historical artifacts. Trail segments go from Mountaindale to Woodridge and from Woodridge to the Neversink River.
Excellent, well maintained level terrain, well shaded usable all seasons and includes variety of videos and wetlands with excellent birdwatching areas.