Join us for some upcoming hikes to experience Sullivan County!
Groundhog's Day Snowshoe Hike for All: February 2nd, 2013 @ 10:00am
Walnut Mountain
Liberty, NY
Despite what Punxsutawney Phil may have to say, join us to celebrate this beautiful season that we call winter with a snowshoe hike @ Walnut Mountain! Join us in the parking lot after the hike for a delicious cup of hot chocolate and treats provided by The Center for Discovery!
DIRECTIONS: It's easy to get to Walnut Mountain, located in Walnut
Mountain Park, a 265-acre park in Liberty, New York, not far from Route 17. Driving directions and a park map can be found at:
http://www.townofliberty.org/walnut_park.pdf
MEETING PLACE: The Park has two entrances. We will meet at the Lake Street entrance (intersection of West Lake Street and Eagle Drive) in the large trailhead parking lot (on right side of map)
WHAT TO BRING:
Two Full Water Containers
Sturdy Shoes Suitable for Trail
Day Backpack
Warm, Waterproof Jacket
Gloves
Snacks
RSVP: Call 845-707-1326 by 5:00 pm Friday, February 1st to register so
we know you're coming and can answer any questions.
SPONSORED BY:
Trailkeeper.org
The Center for Discovery
Valentine Hike: Saturday February 9th, 10am-12pm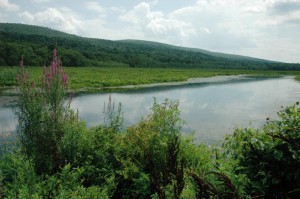 Join the Delaware Highlands Conservancy and other Trailkeeper partners for a snowshoe hike in the Bashakill, ending with a wine tasting at the Bashakill Vineyards. Keep an eye on www.DelawareHighlands.org for more info and to register.