More Information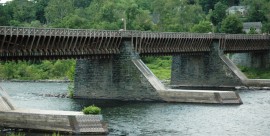 There is a river trail along the Roebling Bridge site.
Consruction on the Roebling Bridge, formerly known as the Delaware Aqueduct, began in 1847–making it the oldest existing wire suspension bridge in the country. The Tollhouse is located on the Minisink Ford, NY side of the bridge, and the bridge stretches to Lackawaxen, PA across the river. There, visitors can find old photographs and self-guided tours to learn more.
There is a walking path on the single-lane bridge for pedestrians, and it's a great place to view nesting eagles all year.
The bridge was designed by John A. Roebling, who went on to design the Brooklyn Bridge. The aqueduct was designed to ease traffic across the Delaware when the D&H Canal was in use, until 1898. Roebling also designed the Lackawaxen Aqueduct, Neversink Aqueduct and the High Falls Aqueduct for the D&H Canal Company.
The National Park Service currently maintains an exhibit at the Historic Tollhouse for the Roebling Bridge.
Reader Interactions