More Information
Hurleyville O & W Rail to Trail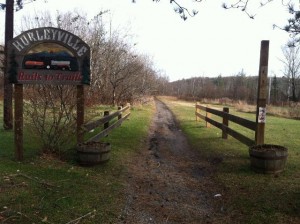 Three segments of the O&W Rail-Trail are open to the public within the Town of Fallsburg: Mountaindale to Woodridge, 2.7 miles; Woodridge toward South Fallsburg, 1.8 miles; South Fallsburg to Hurleyville), 3 miles. When complete, the trail will stretch 25 miles between the D&H Linear Park in Summitville to downtown Liberty.
Additional Details
Trailhead
Greenfield Rd at Green Ave. (Woodridge) to Railroad Ave. (Mountaindale) and CR 104 (Hurleyville) to Main St./Rt 43/Forestburgh Rd. (South Fallsburg)
Handicap Accessibility
Not Currently
Parking
In South Fallsburg park by a small playground at Railroad Plaza and Griff Court. The trailhead is up Railroad Plaza behind an enclosed basketball court on the left (along Water St.). In Hurleyville, park near the post office along CR 104. For the Woodridge-Mountaindale segment, park at the intersection of Green Avenue and Greenfield Road in Woodridge. In Mountaindale, park by the old Mountaindale Train Station, now a visitor center with restrooms, and head past the parking lot and you'll come to a sign board for the Mountaindale O & W Linear Park.
Special Features
The Ontario & Western Railroad (O&W) opened the Scranton Division in 1888 and operated the line through northern Wayne County, into New York State at Hancock, until 1957. A major carrier of anthracite coal, the O&W was also an important carrier of milk and dairy products, as well as urban tourists seeking the fresh air of resorts and farm house boarding.
Trail Conditions
Several community groups have been working hard over the last few years to improve the Rail Trail. It is now better groomed and has been expanded so that it can be walked from the new Railway Station Visitor's Center in Mountaindale, NY to Woodridge, NY and a public road connects through the Village all the way to the Neversink River Gateway. Both ends have parking areas. 4 new Interpretitive Signs will be up by the end of this summer and a new trail map brochure is available at many locations. The trail is wide and clear, with a level terrain for super easy travel. There are several places where the vista is open to wonderful scenery and wildlife observation in meadows, woods and wetlands. It's worth a trip inside the beautifully landscaped Visitor's Center (clean restrooms) to see the unique collection of antique O&W Train photographs. Bicycles & Segways may be rented seasonally. Other parks, playgrounds & restaurants are nearby.
Last updated on 07/21/12.
---
What's Nearby
We've partnered with the
Sullivan County Visitors Association
to bring you detailed information about everything you need. Food and restaurants, lodging and camping, attractions, activities, clothing and equipment retailers for outdoor recreation, transportation options and more, right at your fingertips.
Reader Interactions