S - Strenuous
Location
Ferguson Road, Shawangunk, NY
This portion of the Shawangunk Ridge Trail is fairly strenuous, rocky and difficult in places, particularly near the Route 52 end, which is located further from main roads.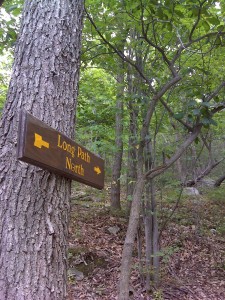 Directions to Ferguson Road (Roosa Gap-Summitville Road) parking area: Get off Route 17 at Exit 113 and turn North on Rt. 209 toward Wurtsboro.  After 1.3 mi. turn right at the light onto Sullivan Street in Wurtsboro.  Continue through town and up the hill onto CR. 171/Mamakating Rd.  After 2.4 mi. turn left onto Shawanga Lodge Rd. just over the top of the hill.  Follow Shawanga Lodge Road 3.2 mi. to the stop sign for Pickles Road.  Just after the stop sign turn left onto Ferguson Rd. (Roosa Gap-Summitville Road) immediately opposite 140 Pickles road.  The DEC parking area is on the left.  The trailhead is marked by three yellow discs on a tree.  This trail connects to the blue-blazed SRT.
Trailhead
According to the google map provided, the Blue Trail is (SRT) from Ferguson Road to Rt 52 and the Red Trail is (SRT) from Sullivan St. to Ferguson Road. Scenic photos and points of interest are provided on the Google Map.
Blue NYSDEC discs/green LP paint blazes
Terrain Difficulty
S - Strenuous
Ownership
NYSDEC (part of the Roosa Gap/Shawangunk State Forest)
NYSDEC parking and roadside parking on Ferguson Road. There is also roadside parking on Rt 52 that provide scenic overlooks.
While hiking you come across a rock ledge that provides a view of Wurtsboro Airport and the Basha Kill Wildlife Management Area, as well as High Point, NJ. Further into the trail you also come across a view of Sam's Point and Bear Hill. At approximately 5.5 miles the Long Path trail joins Old Rt. 52/Old Plank Road. At approximately 6.14 miles the Long Path trail crosses Rt 52 to South Gully Trail.