Mission Statement:

Sullivan TrailKeeper: Your one-source outlet for hiking trails in Sullivan County. TrailKeeper makes trail hiking safer and more accessible. Explore easy-to-read, easy-to-access online mapping and facilities information and guides to hiking safety.
Serious hiker? Beginner? Mom carrying a baby? There is a hike for you.  TrailKeeper provides access to trail information that matches hiker to trail.  Find the information you need about locations, routes, and facilities for a safe and enjoyable experience.
TrailKeeper also connects residents and visitors to information about the shops, lodgings, and other local businesses of Sullivan County. Find news about upcoming events, activities, and attractions in the region to map out a great overall experience.
This website is the result of a partnership between the Catskill Mountainkeeper, the Delaware Highlands Conservancy, the Sullivan County Division of Planning and Environmental Management, the Sullivan County Visitors Association, and Morgan Outdoors, with support from the New York-New Jersey Trail Conference, the National Park Service, the Sullivan County Community College Hiking Class, and many volunteers.
Funding for the site design and launch was provided by the Upper Delaware Council through the TAG program and Sullivan Renaissance through the Environmental Initiatives grant. Additional funding for site updates and improvements was provided by the A. Lindsay and Olive B. O'Connor Foundation, the Clif Bar Foundation, and the Delaware River Watershed Initiative. The website was designed by adcSTUDIO.
Member Organizations:
Catskill Mountainkeeper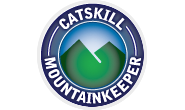 Catskill Mountainkeeper prides itself on being the strongest and most effective possible advocate for the Catskill region. Working through a network of concerned citizens, Catskill Mountainkeeper promotes sustainable growth and protects the natural resources essential to healthy communities.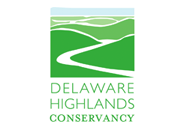 Delaware Highlands Conservancy
The Delaware Highlands Conservancy is a nonprofit land trust conserving our natural heritage and quality of life in partnership with the landowners and communities of the Upper Delaware region. At the Conservancy, we focus on the healthy lands and clean waters that sustain us, now and for the future. Our members, supporters and volunteers in the community are our partners.
Sullivan County Division of Planning and Environmental Management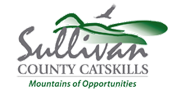 The Sullivan County Division of Planning & Environmental Management creates programs that foster orderly development and redevelopment of the County's physical infrastructure in a manner that conserves natural resources while providing economic opportunity for area residents. They also offer technical assistance to local municipalities and assist with the development of land use policies.
Sullivan County Visitors Association
The Sullivan County Visitors Association is a full service tourism information organization available to provide the visitor a complete compliment of events, attractions, lodging and planning during your visit to the Sullivan County Catskills.
Morgan Outdoors
Morgan Outdoors sells outdoor clothing, footwear, and gear and acts as a resource for outdoor information and a center for a wide range of activities from seasonal hikes to weekly yoga classes.
Cornell University Cooperative Extension


The CCE System enables people to improve their lives and communities through partnerships that put experience and research knowledge to work.
National Park Service – Upper Delaware Scenic and Recreational River


With the help of volunteers and park partners, we are proud to safeguard nearly 400 national parks and to share their stories with more than 275 million visitors every year. We are proud that tribes, local governments, nonprofit organizations, businesses, and individual citizens ask for our help in revitalizing their communities, preserving local history, celebrating local heritage, and creating close to home opportunities for kids and families to get outside, be active, and have fun.
Disclaimer:
Information contained herein is provided for informational purposes only. Sullivan County Trailkeeper and is members provide the Google maps and trail data with no claim as to the completeness, usefulness, or accuracy of its content, positional or otherwise. The Sullivan County Trailkeeper does not make any warranties of any kind; either expressed or implied, on any information in this website.
The Sullivan County Trailkeeper website is designed to be used for the planning of recreational activities. The users should be aware of all rules and regulations relevant to recreational activities that are accessible through this application. Outdoor activities are potentially hazardous. There is always the possibility of personal injury, illness or even death. It is the user's responsibility to understand and accept the risks involved and to take adequate precautions against them. Although care is taken to provide accurate information on the Sullivan County Trailkeeper website, this cannot ever be a substitute for thorough research, planning and judgment with regards to a particular outdoor activity. Users should understand that the description of the risks on this website is not complete and that other unknown or unanticipated risks may result in injury, illness, or death. Users who choose to use the trails shown on this website are assuming the risks identified herein, as well as the other unknown or unanticipated risks that may arise in using any of these trails.
Geographic Information Systems (GIS) data for the Sullivan County Trailkeeper website was provided by the NYS Department of Environmental Conservation, the National Park Service and the NY-NJ Trail Conference.
Remember that other than the GIS data, the Sullivan County Trailkeeper information was primarily gathered from hikers, volunteers and our member organizations.  This website is still a work in progress and conditions of trails are always changing. There may additional Sullivan County trails or trail information not listed on this website.