2 miles
M - Moderate
DELAWARE RIVER REGION TRAIL

"There may not be a better vista on the Upper Delaware than the view from the "Ledges." The bluestone slate ledges are perched about 500 feet above a big bend the river. A small waterfall cascades from the edge of one of the rock outcroppings. (Spring flows are the most spectacular.) Raptors can be seen riding the thermals. Remains of an old bluestone quarry are found near the ledges. Some old white pines are found along the trail from Long Eddy."
DIRECTIONS:
Trailhead 1 (Long Eddy):
Trailhead 2 (Lordville): 10 miles north of Long Eddy on Route 97, make left on Lordville Road; go 3 miles to Lordville; make left on Bouchoux Road; travel for approximately 3 miles. The trail head is on the left side at the end of the cul-de-sac.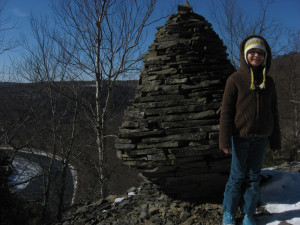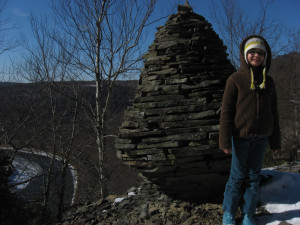 There is a State of New York trail sign at the trailhead in Lordville. The trail uses NYS trail markers leading to the Jensen Ledges.
Terrain Difficulty
M - Moderate
Trailhead 1: No parking at the Long Eddy. Cars can be parked in the village. It is approximately a one mile walk along a gravel road to the gate at the start of the State of New York wilderness area. Trailhead 2: Parking for 15 to 20 cars.
Special Features
Rattlesnakes are infrequently seen, but do live in the area. Small children should be supervised near the ledges as it is a 500'+ dropoff.
"If you are approaching from the Long Eddy side, the spur trail that leads to a DEC marked campsite shows evidence of busy beavers cutting down poplars, dragging them across the railroad tracks and down a steep bank into the Delaware River, presumably for their lodge downstream."